IF: Gathering 2021

God is on the move.  Yes, things will fall apart, and yes, things will shut down, but our God cannot be stopped.  And we don't want to miss any part of that.  His kingdom is coming.  We want His will to be done on this earth as it is in heaven and our heart and prayer is that "on earth as it is in heaven" starts with us.  And we would stop wondering if it is possible to change the world.  It's possible.
This year, at IF:Gathering 2021, we are going to talk about how we do that.  The theme of those two days is going to be "Even If."  Even if the worst happens, we don't lose hope.  Come join us as we remember that together.
2021 Speakers include well known Christian authors, speakers, pastors and leaders both from the US and abroad, including the following and more!
Jennie Allen
Jo Saxton
Jamie Ivey
Christine Caine
Bianca Olthoff
Jackie Hill Perry
Lysa Terkeurst
Isabel Garza
Latasha Morrison
IF:Gathering 2021 is a two day, virtual event featuring some of the most influential Christian speakers in the world.  It is aimed towards women of all ages (14 and up) with the goal of inspiring us to love God with all our heart, soul, mind and strength and to encourage us to live out this love in our local communities as we serve Him and further His kingdom.
Ways to participate in IF:2021
Join us virtually on March 5 and 6. Click HERE for your free basic pass. If you want access to the videos after March 5 and 6, you must upgrade your pass for $39.  Consider inviting a few friends to view with you at your home or watch yourself and join other Willowdale women and friends for a Zoom lunch discussion on March 6 and/or March 7.
Join us late spring and summer for our IF: Spring/Summer series. We will gather in person, view one of the sessions at a time, and spend some time reflecting and discussing in small groups of women.  More details to follow this spring!
Fall 2021: All the IF:Gathering 2021 sessions will be available on Right Now Media to view at your convenience.
If you have trouble accessing your free pass through our link, please try these steps:
Go to www.join.if2021.com
Select Buy Your Ticket
Under Registration Type, select Join a Group
Enter IF:Willowdale for the Group Name
Enter Willowdale21 for the Access Code
Schedule for the Live Event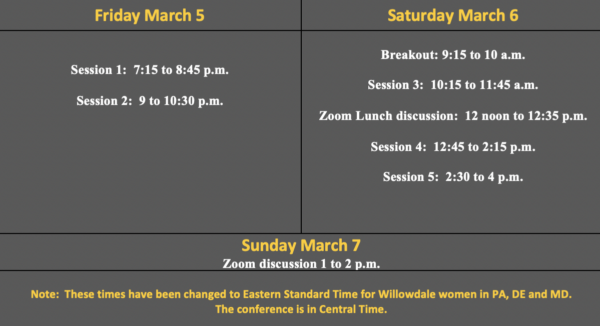 If you have any questions, please contact Carole Hoy, Women's and Groups' pastor, choy@willowdalechapel.org. For more information on the IF:Gathering itself, visit https://www.ifgathering.com